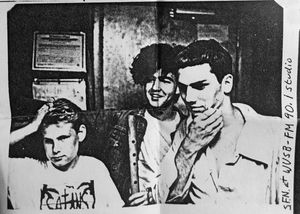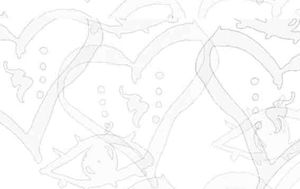 Tim Eriksen, Chris Crowley, Ben Eriksen Carey. Formed in 1984.
37 year hiatus. Back at it in 2022.
newsletter223
Stands For Nothing: 5 song EP release, and first show since the Reagan years 
One of my pandemic projects has been reconnecting with music I made in my teens and, more importantly, with the people I made it with: my brother Ben, who played drums with me from when he was 10 to 13, and Chris Crowley who I bonded with largely around punk and metal shortly after we met in 1977. The line between imaginary and real bands can be tenuous, and most if not all of them start in imagination. My first bands with Chris were completely in our minds, since neither of us had access to instruments. We talked about doing something "like The Ramones, only faster and with better lyrics." Of course, I've always loved the Ramones' lyrics and came to regard their silliness of discontent as plenty deep in its own way. We just wanted to write about things we thought were important but not very present in the music we were hearing. Talking about it all these years later it turns out we were both very depressed and overwhelmed by the world, but didn't know how to talk about it. In any case, Chris eventually made enough money mowing lawns that he was able to afford a $40 Japanese guitar, the first electric I ever played, and somehow got a keyboard amp from one of his mom's friends. He took some lessons and showed me just about everything I know about playing electric guitar that I didn't later figure out on my own. 
About a year later, in 1980, I'd saved up enough for a bass, and we started our first "real" band, The Plague, which sounded how you might imagine a band with that name, comprised of people who were just learning to play, might sound. Our best song was probably Security Guard, the lyrics to which were "Security guard, security guard, security guard- he keeps his poodle up til 5 o'clock." Other bands ensued, including the NWOBHM influenced Purgatory and a sort of proggy world music punk band called The Last Wave that integrated traditional folk melodies and experimental noise. I wish we'd had the confidence to trust our ideas enough to follow through with those bands, somewhat in the spirit of Ben's band of 11 year olds The Rolling Thickheads, whose songs included the immortal "Smoking In The Shower" and "Personality Crisis", inspired by a poster for a New England punk band I had on my wall. 
I remember listening to Black Flag with Chris in my room and being annoyed at hearing my 9 year old brother through the wall, bashing away on pot lids and oatmeal containers. Starting our first REAL real band, The Replicas, took Ben getting a real drum set when he was 10, playing with his own bands, me and Chris realizing it could be really fun to play with him even though he was little, and us finding a degree of confidence in our ability to do something worthwhile that might be of interest to others. We recorded our first cassette single, Cabbage Patch Riots and Vulture's Nest, in 1983 and strangely got a bunch of attention through airplay on Turmoil, Steve Kreitzer's show on WUSB. In early 1984 Chris and I switched instruments, and became Stands For Nothing. Our tenure as a hardcore band was brief, as our collaboration continued to morph into other things as our interests developed. But before we abandoned hardcore punk we did manage to make one full length album comprised entirely of songs we wrote in 1983-1984: The First Things I Ever Did Was Cry, recorded in Chris's bedroom with four microphones when Ben was 12, and released on the tiny underground label Unsound Music. 
Revisiting this recording and all that surrounded it has been fascinating and profound in ways that I intend to write about more as I understand it all better. But the main thing, for now, is that it turns out it's a really good album! We're working on a vinyl release of the whole thing, but for the time being we're releasing it digitally in bits and pieces. AND, we're doing our first show since the Reagan administration on April 1 in Florence MA. Hope you can come!