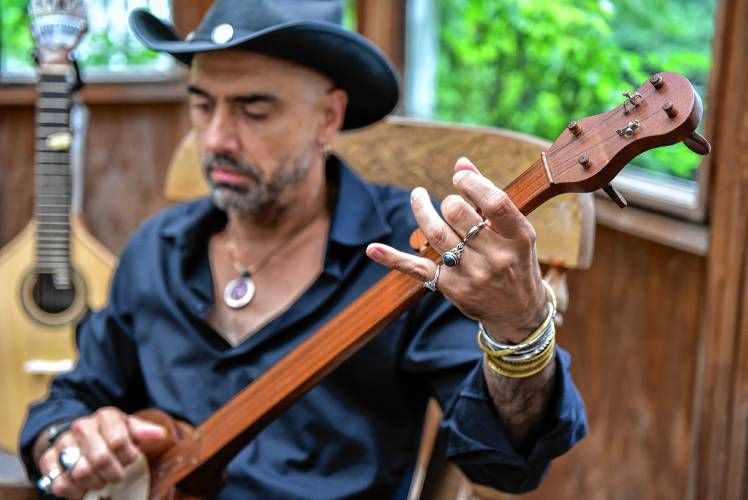 Whether teaching shape-note singing, exploring folk music traditions from Appalachia, the Balkans and India, or blending punk and folk music sounds on his guitar, fiddle and banjo, Tim Eriksen has carved out a unique niche for himself as a musician, composer and ethnomusicologist. 
Eriksen, of Amherst, has contributed music to the 2003 film "Cold Mountain" as well as theatrical productions and orchestral settings. Most recently he composed and performed the music for Milan Dragicevich's play "Refugee," which after debuting in the Valley a few years go will be staged at a theater festival in Serbia in October. 
Hampshire Life: Talk about the work you're currently doing. 
Tim Eriksen: After "Refugee" goes to Serbia, I have some other projects on the horizon, including another recording with singing fiddler Eliza Carthy and one with Afro-Cuban pianist Omar Sosa. Plans for the spring include a collaboration with Nimbus dance company on an original piece at Brooklyn Academy of Music. 
I'm also talking with some very cool people about a more fleshed-out realization of my music theater piece "Pumpkintown: Songs, Stories and Magic Lantern Projections From an Imaginary New England Village." 
HL: What do you draw inspiration from? Do you ever have any "Eureka!" moments? 
TE: The woods and weather, insects, people and other music. Those "eureka" moments do come, sometimes in unexpected ways. Many years ago I was teaching at a shape-note singing school when I heard, coming from the altos, the voice of a dear friend who had died some months earlier. I looked around and didn't recognize anyone, but eventually figured out that the sound was coming from someone I didn't know, but who had learned to sing sitting next to someone who sat next to my friend. 
HL: Have you ever had a "mistake" — a project that seemed to be going south — turn into a wonderful discovery instead? 
TE: I once made a recording with legendary producer Joe Boyd, but things fell through with the label and the music wasn't released. Then a few years later, I was asked to do some music for a film — something I couldn't have done nearly as well without the lessons and experience of the earlier recording. 
 Now, 20 years later, I'm planning another recording with Joe, with some very cool musical guests I met through the Hollywood work. 
HL: Name two artists you admire or who have influenced your work. What about their art appeals to you?
TE: Esma Redzepova, "the queen of Gypsy music," comes to mind. Esma really brought it, like Nina Simone. She was an ambassador for humanity. I'm looking forward to hearing the final mix of the old Macedonian song "Sestra Kani Brata" I recorded with her as a duet on her last, posthumous, record. 
One of the most directly influential artists in my life is the wonderful composer and veena player, as well as my mentor and friend, David Reck. So much of what I've learned in music began with him and his tremendous generosity and adventurous spirit. 
HL: What's the most recent exhibition/concert/book reading/other event by another artist or group that you've attended and enjoyed? 
TE: I was very inspired by the current exhibit of Yugoslav monumentalism and brutalist architecture at MoMA, especially the architectural philosophy and work of Bogdan Bogdanovic, an architect and sculptor I'd never run into before. 
HL: Dream dinner party — who would you invite? 
TE: My family and some shape-note singer friends. 
HL: What do you do when you're stuck? 
TE: Keep working or go to the woods. 
— Steve Pfarrer